1st April Fools Day
Businesses of all sizes have used this day as an opportunity to raise their profile. A favourite April Fools' hoax, was when Taco Bell placed ads in major newspapers announcing it had purchased the Liberty Bell to help reduce the federal deficit and was planning to move it to Irvine, California. Americans were furious. There were more than 400 TV mentions and thousands of newspaper and radio mentions worth millions in media coverage, though Taco Bell sent out a news release announcing the hoax just a few hours later. The smart promotional gambit resulted in a $500,000 sales increase for the company on April 1 and a $600,000 increase on April 2.
3rd Easter Sunday
A great chance to celebrate all things chocolate related and puns galore (#HappyYeaster – Marmite Marketing or Choctails in a bar!). As a local business, you could organise an Easter Egg hunt – with social distancing this may be harder but you could do a virtual one around your website – or do an online egg hunt where you upload pictures of eggs around the local community on social and asking people to guess where they are. If you have the budget or the in-house expertise, why not create an egg-related game?
29th March – 4th April Autism Awareness Week
2nd is World Autism Awareness Day
A chance to get involved in one of many great charity fundraising weeks.  You can register your interest online and hold an event (big or small) to raise funds as well as let other people know about the issues faced and how we can help as a society.
3rd Tweed Day
2nd Walk to Work Day Okay, not many people are driving to work right now but maybe do a virtual walk or encourage people to a morning walk – show pictures of your own. Have some fun with the walk to your home office 🙂
7th World Health Day
WHO is calling on us all to help build a fairer, healthier world. As COVID-19 has highlighted, some people are able to live healthier lives and have better access to health services than others – entirely due to the conditions in which they are born, grow, live, work and age.
This is not only unfair: it is preventable. That's why WHO are calling on leaders to ensure that everyone has living and working conditions that are conducive to good health.  Show your support or do something to make a difference.
7th No Housework Day A great one to celebrate!
22nd Earth Day
First celebrated in 1970, and now coordinated globally by the Earth Day Network, it's celebrated in some 193 countries, with events to demonstrate support for environmental protection. A great opportunity for environmentally-friendly businesses to raise their awareness. You don't have to be a green company to take on an environmentally friendly promotion, such as planting trees and letting your customers know about it. Or use it as an opportunity to move some administrative tasks online.
29th International Dance Day
The perfect day to run a dance competition (Facebook Live anyone!) or just a free day of dance if you have the location. Get together with other local businesses and have a danceathon for charity. Get staff and customers to show off their signature moves. Let people know the benefits of dance or share your favourite songs to boogie too! Maybe organise a flash mob, giving young and old alike a chance to indulge in dance and music whilst creating some fab PR as well.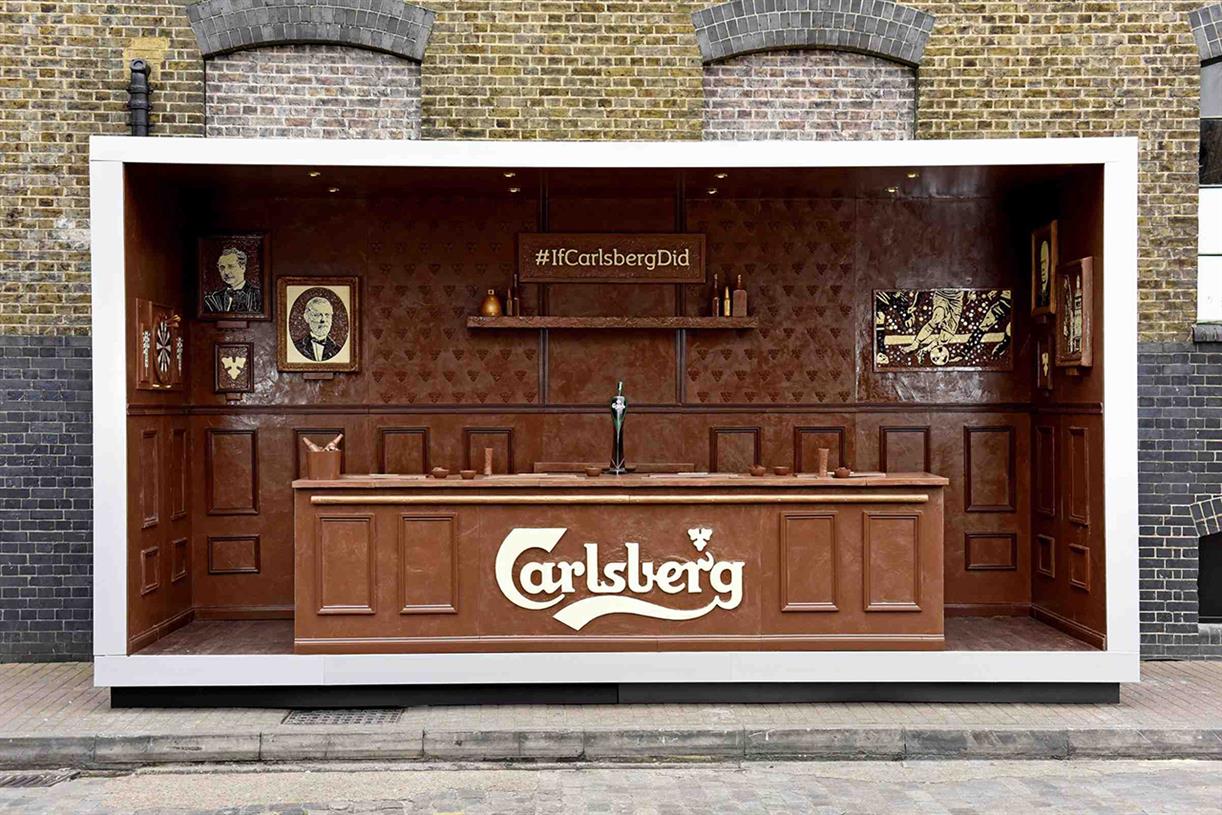 Beer and Easter? Tenuous link but the marketing geniuses at Carlsberg made it when they launched a pop-up bar made completely out of chocolate as part of their "if Carlsberg did…" campaign.
The pop-up appeared as a giant bar of chocolate mounted onto the wall of the Old Truman Brewery in Shoreditch. Carlsberg unwrapped the foil to reveal a bar measuring three metres deep, five metres wide and two metres high. It was made up of nearly half a tonne of chocolate.
It featured a dartboard, bar stools and a TV showcasing one of England's greatest World Cup moments, all made out of chocolate.
Yum!