About Joolz
I wear many hats – so many, my talented mum did me a painting of them all!
'I love giving people ideas – empowering them. I like to think I inspire and motivate my clients (they say I do) and in life I try to be a good person.
As well email marketing consultant and marketing motivator, I am a visiting Lecturer at the University of Hertfordshire and a mum.  I help with the school PTA. I try to meditate daily because I know I feel better for it, but I don't always manage it. I love hats, dogs (but I don't have one) and sunshine!
f you want to work with me, it is important you know that I work around my family and still do school run and that lovely stuff! 
I am always looking at how I can be a better person – professionally and personally – sometimes I feel I am on a roll with that, there are times I feel I am not quite getting there with anything.  Like many of us, every now and then I realise I am not looking after myself enough, so I refocus on self-care.
I like to keep busy (some might say too busy) and I love hats. Those 2 things inspired this picture that my mum painted and you can see below  (yes she is rather creative).
I am proud of what I have achieved, as a mum and a marketer. I hope I inspire and empower – not just my clients but others I present to and speak with!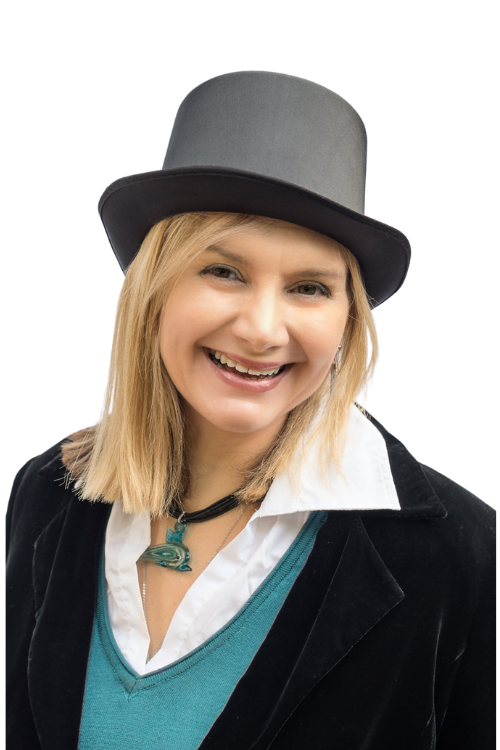 "Joolz has run a couple of thoroughly enjoyable and entertaining seminars for us at The Business Network South Herts. Each one has been extremely well-received with glowing feedback. Her insightful approach gives delegates a clear understanding of the topic together with some key actionable points. Her enthusiastic manner ensures that delegates leave highly motivated and with a renewed sense of inspiration.  "
Sharon Sacofsky
With over 25 years' experience in sales and marketing, I enjoyed the dot com boom (then gloom), and worked with a wide range of blue chip clients as well as some very interesting smaller businesses on direct and digital marketing strategies before focusing on email when I joined Silverpop Systems Inc working as an Account Director and European Consultant.
I am a fellow of the Chartered Institure of Marketing and a Visiting Lecturer at the University of Hertfordshire. 
I chose not to go back to London 5 days a week after having my children. I had a mini career break, picking up a few consulting jobs along the way, but I still had the knowledge, drive and passion that motivated me as a European Consultant.
Like many working mums, I wanted a career that fit in with my family life but still enabled me to provide a valuable and professional service.
I thought about what I am good and and enjoy. I love marketing – particularly email marketing – and get a buzz from sharing my knowledge and ideas with others. I have worked with huge companies, small businesses and enjoy helping those with a great product or service understand more about how to get it out into the world.
The Virtual Marketeer launched in September 2013 as my eldest started school, offering marketing mentoring services for clients as well as strategic email marketing services. In 2019, after an ankle operation and some reflection, I rebranded as Joolz Joseph realising that's how most people know me. The Virtual Marketeer remains a website which will be showcasing quality freelance marketing consultants. Working around my children, I work primarily with local businesses.
I also train clients in Email Marketing, and have trained for the Chartered Institute of Marketing as well as at St Albans Enterprise Agency and the University.
I work primarily with clients in Hertfordshire – mainly St. Albans, Welwyn Garden City, Stevenage and Hertford – although I also work with clients in throguhout the UK as well as a few abroad.
Work ethic and style
I believe in respect and integrity in my professional relationships. I have worked with both large corporate organisations and small businesses, so I am realistic about what can be achieved in different arenas as well as able to adopt a flexible approach.
I enjoy a professional but relaxed style of working which encourages collaboration, idea generation and honest feedback without crossing important professional boundaries.
I am a home based, working mum so like many millions of women I juggle work and children and so understand the many personal and professional pressures on business managers!
Let's Start a Conversation